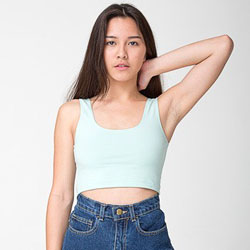 American Apparel has a unique spandex and cotton blend garment that offers the best of both materials, 95% cotton and 5% spandex. This particular blend of fabric offers consumers a great fit for all body type, relaxed and comfortable feel, and proudly made in the USA. Unlike many other types of shirts, the cotton/spandex blend allows for easy maintenance and will outlast a regular t-shirt by 25%. With a wide variety of colors to choose from coupled with endless design ideas the possibilities are endless.
Overall the spandex/cotton blend works favorably for the screen printers as well. The exceptionally smooth service makes it very easy to print on, while producing optimal results. There are a few minor details the screen printer must be aware of when printing; this garment is sensitive to high heat and over exposure of the heat, and because it is made of spandex the ink used must be for high-elongation. Aside from that, very few screen printers have issues when printing.
American Apparel has succeeded in supplying a garment that is just as easy to wear as it is to produce and screen print or embroider.